The Major Achievements in Merchandising Excellence (MAME) Awards are hosted annually by the Builders League of South Jersey.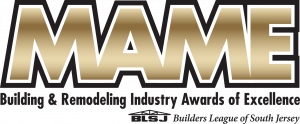 A crowd of over 260 building and remodeling professionals were on hand at the 2022 MAME Awards on Wednesday, November 9, 2022 at Lucien's Manor in Berlin.
Established in 1985, the prestigious MAME Awards competition recognizes the exemplary efforts of League members for superior work in customer service, design, building, merchandising and the most creative advertising and marketing efforts used to promote southern New Jersey's newest neighborhoods and remodeling projects.
The Builders League's Industry Awards, which honor members for the achievements in the association on behalf of the new home building and remodeling industry, were also presented.
Check out the winners and sponsors by viewing the 2022 MAME Awards' winners' booklet.